Haselhoff family finds ideal spot on big spirit Lake
Camper. Cabin. Lake home.
The Haselhoff family has experienced just about every kind of lake living situation and have now found their dream location on the southwest shoreline of Big Spirit Lake.
"My husband grew up coming here, his family camped a lot and we eventually started out with a camper ourselves at Fieldstone," Stacie Haselhoff said. "From there we bought a little cabin on Upper Gar and we liked it a lot, but we knew we also liked things a little quieter and discovered that's exactly what we liked about Big Spirit."
They first bought a home on the east side of the lake and loved it.
But it wasn't long before an opportunity came to switch shorelines and they jumped at the chance.
"We had been there a couple years and discovered that this south end tended to be the part of the lake where our boys always hung out on their Jet Skis and we thought if a house ever came up for sale we'd have to take a look," Stacie said. "We happen to come in from that direction when we drive up and saw this house for sale. We looked at it the same day and it already had two offers so we had to move quick. We weren't really expecting to do anything, but it just happened to work out."
The next step was doing a bit of renovation work, which was conducted over the fall of 2019 and into the following year, wrapping up in time for summer in 2020.
Stacie said layout of the three-bedroom, two-and-a-half bathroom home was perfect and that it had great bones. It just needed some updates and modifications.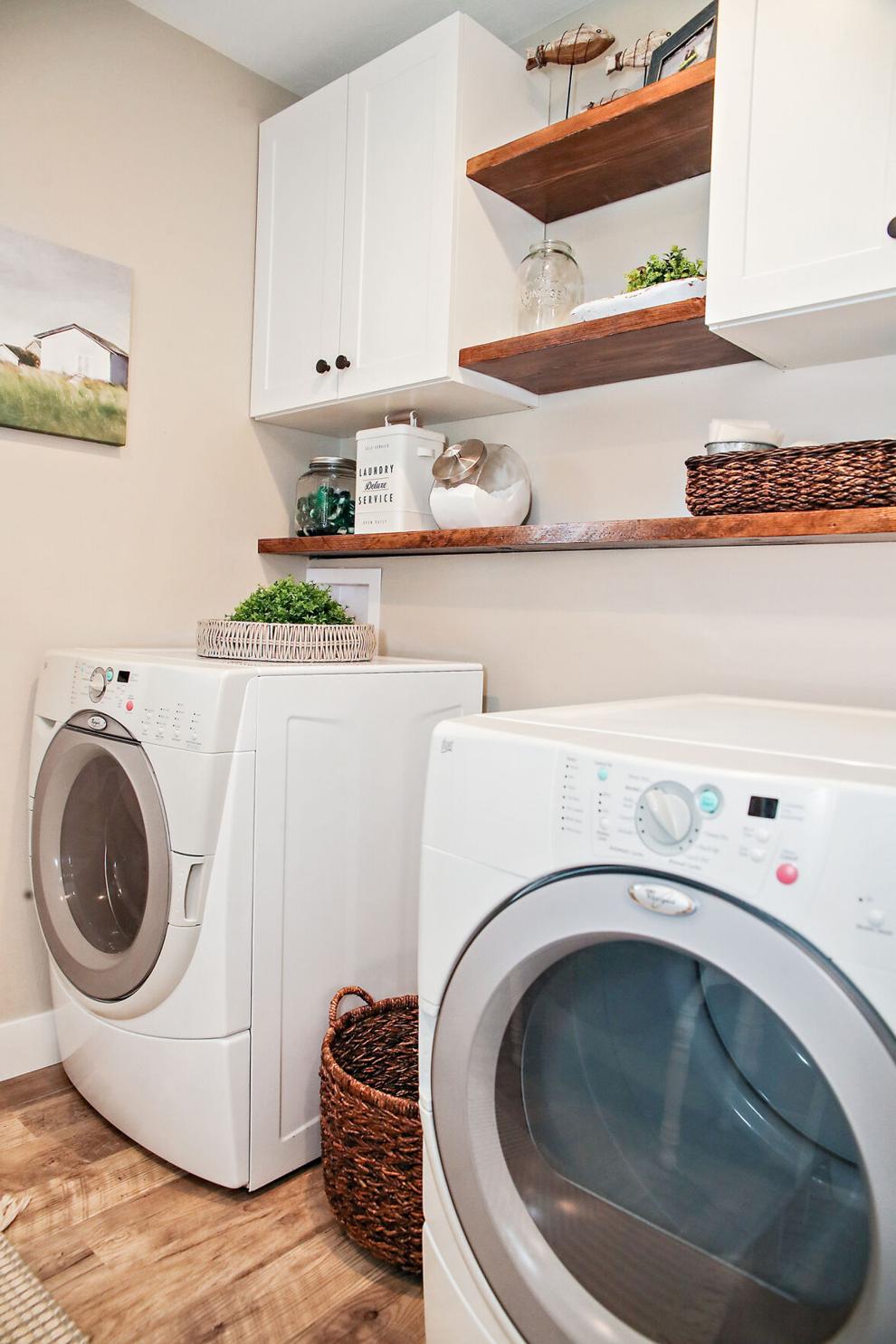 "You could see it had a lot of potential," Stacie said. "We have three boys and when I first walked in I started thinking I need a mudroom and laundry room right here, so that's what we did."
The location of the kitchen was adjusted to accommodate the new mudroom and what was formerly a laundry room was then repurposed into a walk-in pantry.
"The kitchen was the starting point," Stacie said. "I love the island and knew I wanted to paint it blue. We have the open shelves and the woven texture of the chairs — I really like those."
Shades of blue pull the entire home together actually, as the color pops up in each room of the home, whether it's in the choice of paint color, perhaps a throw pillow, or a decorative piece of artwork.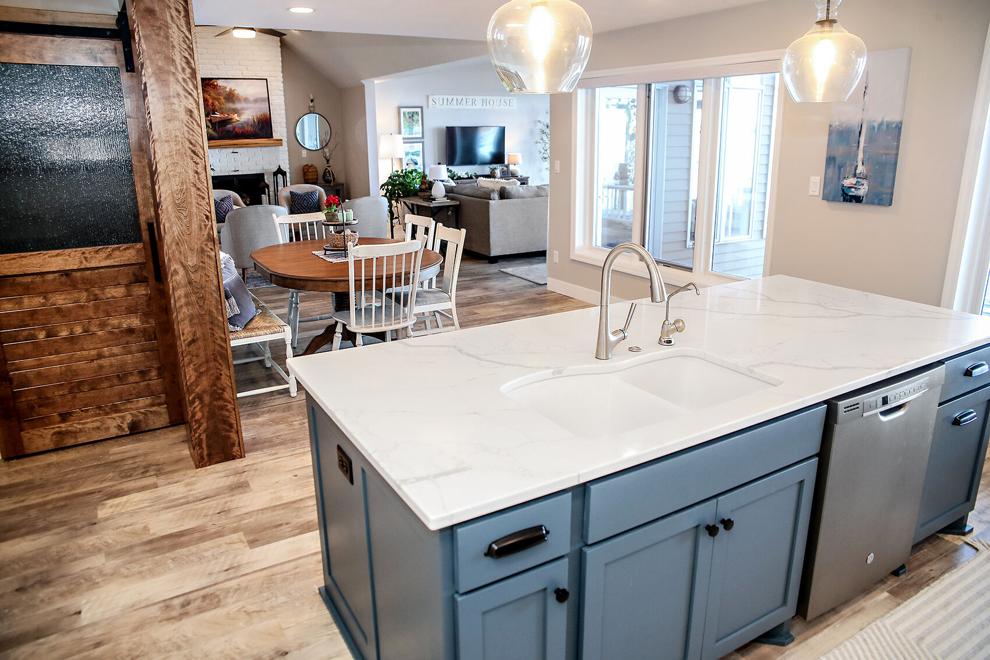 It's a classic color scheme perfect for a lake home.
"You can decorate a little different than you do at your regular house. I'm not into a lot of crazy color since they seem to come and go. Mostly I just like natural colors, but I do feel blue is natural here at the lake, so I keep incorporating that throughout," Stacie said.
The blue hues are complimented with wooden accents throughout with shelving, furniture, flooring and perhaps most strikingly, large beams across the living room ceiling.
That was another room the Haselhoffs endeavored to update during the renovation though it wasn't as extensive of a change.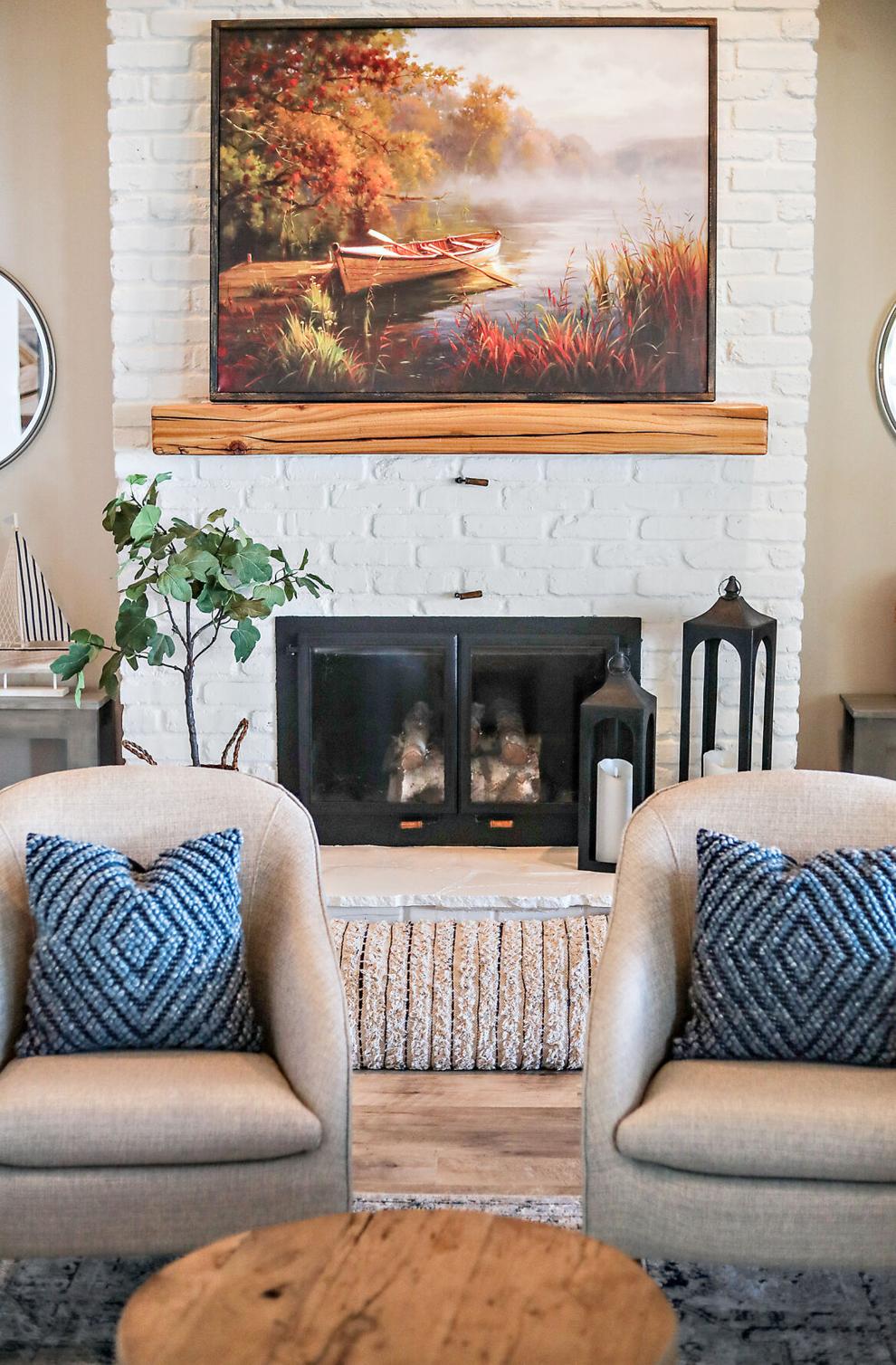 "There was a television room on one side that we changed into this sitting nook area and all the brick we painted white to marry with the white backsplash in the kitchen," Stacie said. "Out in the living area we covered those beams with wood to continue that look out here. We didn't want anything on the windows because the view is just obviously so nice. This is where we want to spend our time."
Also on the main floor is the master suite.
Not much work was done other than some small updates along with new paint and carpet.
"We didn't do much there. Even something simple like putting new handles in the bathroom makes a big difference," Stacie said.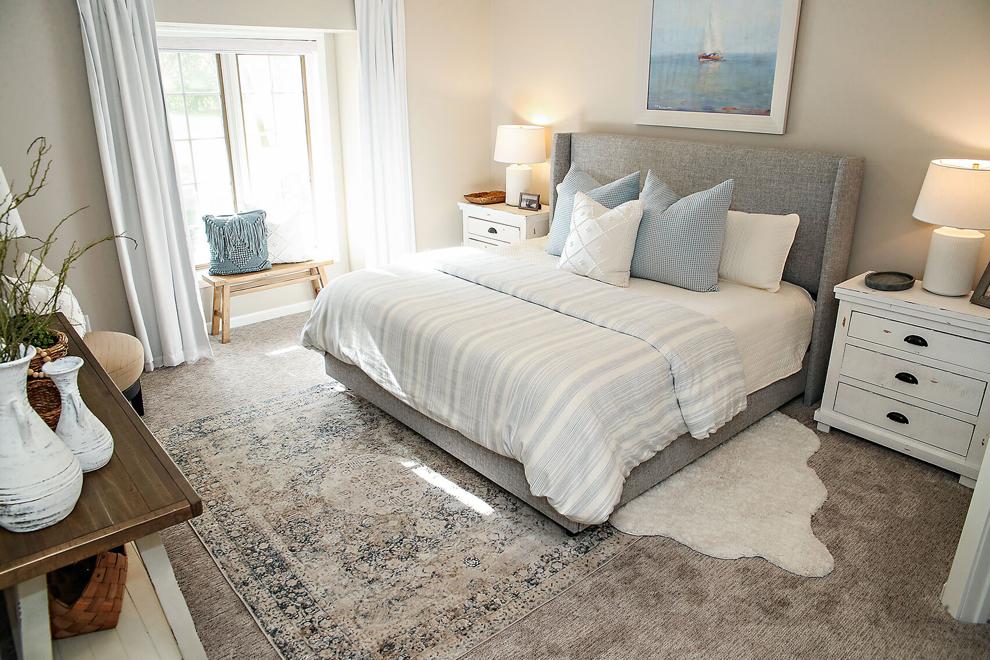 Upstairs are two bedrooms, a bathroom they completely remodeled, as well as a bonus room with bunk beds and a spacious area for a multitude of uses.
"It's a nice place for the kids to hang out when we have company. One of our sons actually got married in Okoboji this summer and his wife and bridesmaids and attendants all got ready here and spent the night here, so that was really nice," Stacie said.
What was also nice for Stacie, was the opportunity to decorate the entire home, top to bottom, essentially from scratch.
"The people who bought our previous home wanted it as is, so they kept everything," Stacie said. "So this was definitely an opportunity to start new, and decorating is something I really like to do, so that worked out nicely."
Technically, the new owners didn't keep everything.
A large artwork of a pair of canoes hangs in the home's main hallway and it has hung somewhere in every lake home the Haselhoffs have owned.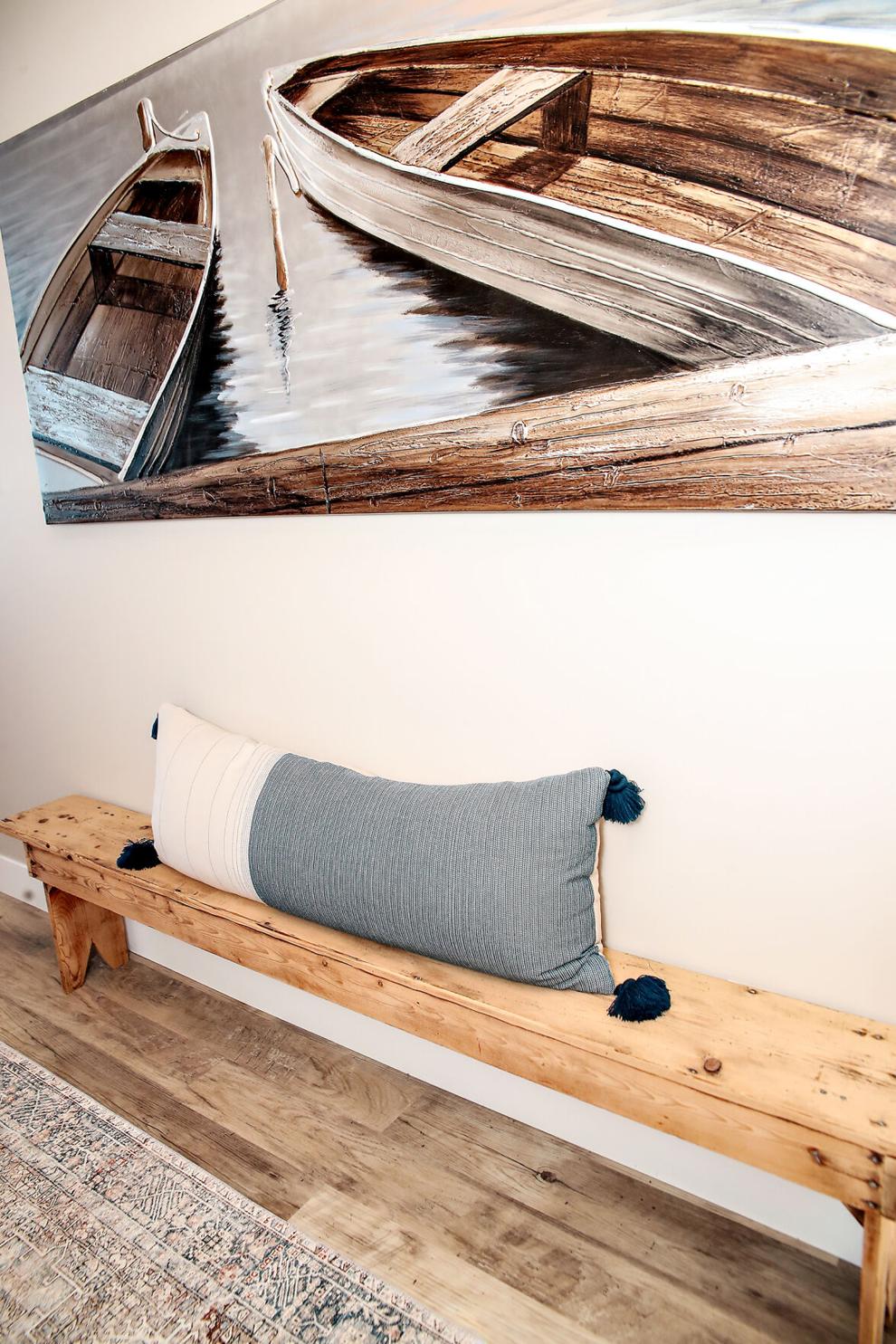 The bench it hangs above, however, is something new to them and came with a cool story.
"One thing I like to do is incorporate new things with old things — I love to go to antique stores and flea markets — and that bench I found at a vintage place in Sheldon and it turned out it was actually from a camp here in Okoboji! It fits perfect right there," Stacie said.
In keeping with that idea, she also found old lockers from the nearby Harris-Lake Park school district, had them painted and installed near the new laundry room where they fit perfectly as a stylish storage option.
A laid-back approach paired with a comprehensive vision fits her style when it comes to decorating quite well.
"I just measure the room and go with it," Stacie said. "It sometimes takes awhile but that's just part of it and that's what I enjoy. I have a vision but I don't like to settle for something just because. I'd rather wait for the right thing and that's what happened with that bench."
And now after a couple summers, the Haselhoffs have fully settled in to their new lake home.
The kitchen is among Stacie's favorite places in the home, as well as the living room with its splendid view of the lake.
"It's very peaceful up here," Stacie said. "It gets us away from thinking about work and all the household duties at home, although we do have some here too, but it's different. Our neighbors have been great on both sides of the lake. The people are so nice up here and that's another thing that keeps us coming back."
The serenity they've found on Big Spirit is certainly something hard to beat.