What was your background prior to this role?
After studying transport design at Coventry, I joined Jaguar as an Alias designer. I then had a brief period at Triumph before returning to JLR (Jaguar Land Rover). I was fortunate to be one of the first designers to join CALLUM nearly three years ago. Alongside some of the projects you might have seen, such as our own Vanquish and Prodrive's Hunter, we've worked on several diverse white label projects that we can't disclose. Being able to reveal the Barq EV scooter is refreshing – we can talk in much more detail about CALLUM's involvement.
What was the brief?
Barq explained that the regions it is operating in are diversifying from an oil centric economy and increasingly there is a huge push on sustainability, introducing electric mobility. Demand for last-mile deliveries is surging too. It wanted a specific solution for the region and crucially, it didn't just want to convert existing scooters, it wanted a bespoke design, engineered for the market. This is a key element of CALLUM. We aren't a design studio that creates great visuals and chucks them to the client to engineer them to production. We are a team of designers and engineers so we can propose solutions and products feasible and suitable for production. We sit alongside the engineers so can ask 'could we make this feature work?' or they could say 'Can we install the screen at this angle, and it still be in reach?'
In addition, this is Barq's first project so we pushed hard for it to be distinctive, to be a very visual scooter that also looks cool, something a rider would want to be seen on.
How much did Barq steer the design?
It was clear what it wanted the scooter to achieve performance-wise but also didn't constrain us. It had undertaken considerable market research and had local insight as to what fleet operators and riders wanted. From there we were given creative freedom. That flexibility enabled us to produce refreshing ideas that we believe bring tangible value to the project.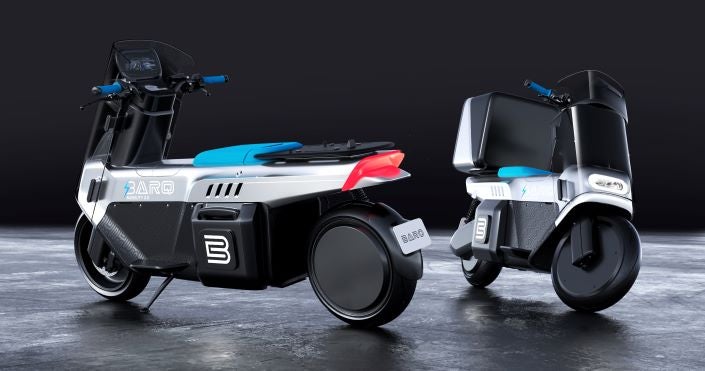 Can you give some examples?
In an environment where most of these riders use small capacity motorbikes, we thought does the step-through element of a scooter have enough value? Or could this be used to add more stowage and optimise the delivery process? But also, this gave way to some striking, fresh aesthetic which helped drive product forward. We constructed a buck in-house to see first-hand how different users would get on and off it. The design we proposed was not only comfortable, but they liked the fact it felt more like riding a motorbike. Riders also said that on typical scooters there was no space to carry a drinks bottle, meaning they had to stop more often. We made sure the riders had access to a drinks bottle and a cubby for a phone or wallet while using the bike. The rest of this space was available for a cool box with provision for 2L drinks bottles or those bucket-like drinks cups you get in fast-food restaurants. Working with our in-house colour and materials specialist, Charlotte, we specified perforated light blue polyurethane handlebar grips and a diamante textured vinyl blue seat that are both cooler to the touch.
Those are nice details but what about the core of the scooter?
Again, this is where working alongside our engineers makes our design process more efficient and effective. They opted for 5.6kWh swappable Lithium-Ion batteries that avoid lengthy idle charging times and offer a range of up to 130 miles. It has a 7kW motor that is both efficient but delivers sufficient performance. For load carrying, we have three storage compartments. Behind the rider is a 79-litre back box with a standardised Givi mounting system. This is complemented by a nine-litre cool box and a five-litre user storage area upfront. For information, we've installed a ruggedised tablet that provides all the route information. The engineers specified the optimum mounting angle that minimises glare and reflections.
How important is that collaboration with engineers?
I think it's a huge advantage and one that multiple customers have come to realise the value of only after we've started a project. Collaboration, whether that's with the client, the engineers or the other designers, is a hallmark of CALLUM. At CALLUM we have a process that we call 'order out of chaos.' The chaos is the initial creative thought that we then apply a little order to. We then turn that idea into something tangible with all the relevant feasibility studies. As well as the engineers, I always involve the younger members to challenge ideas that Ian Callum, myself or others propose. With experience, it's easy to jump straight to the solution but maybe we've missed an opportunity.
And what's next?
Lots! We've just finished the road car derivative design for Prodrive's Hunter, and we are about to move forward with our own CALLUM chair. There is a lot of interest in EV design at present and customers are keen to understand the boundaries of what is possible and how creative you can get. This is an area, just like Barq, where we can offer feasible yet striking design solutions.
Coming up we have another product that's about as far from car design as you can get but we've also got two automotive commissions that are imminent too. CALLUM is all about designing bespoke items and having some fun!